Located in Colorado's Rocky Mountains, Aspen was founded as a silver mining town in the 1880s. It's rich history and period architecture are showcased across all aspects of the modern ski town today.

Aspen is a year-round destination, but due to the geographical location and vast amount of skiable terrain, winter is peak season. The ski resort is spread across four unique mountain areas, Aspen, Highlands, Snowmass and Buttermilk. Collectively these peaks offer over 5500 acres of vast and varied terrain to suit every level of experience. A world-class ski destination, each year people flock to the region to experience the powder, culinary culture, shopping and acclaimed après ski scene.

Skiers and snowboarders visiting Aspen have the choice of two amazing locations for their winter holiday. Aspen and Snowmass have vibrant villages at the base of each mountain, which are only 10 or 15 minutes respectively from Aspen Airport. We recommend flying into Aspen Airport, but alternatively you could fly into Denver, the mile-high city, which is a 4-hour coach or private transfer to Aspen. Each vibrant village has its own unique charm, our team can help you decide which best suits you based on your accommodation style, ski or snowboard ability and après preferences. Wherever you choose to stay, you will have and incredible experience!
As mentioned above, there are two different areas to stay in Aspen, so here is a little breakdown of each location to help with the decision.
Aspen
offers a full range of accommodation options; from luxurious hotels and glamorous private homes, self-contained condos to reasonably priced, value packed accommodation, Aspen has an option for every style of holiday. There are slope side accommodation options in Aspen Town, but most people choose to stay there for the lively town atmosphere, with easy access to restaurants, bars and shopping. Staying in town you have the convenience of having a variety of activities on your doorstep and are still only a few blocks walk to the base of Aspen Mountain.
Snowmass
Village is more of a quintessential ski village experience, the village wraps around the base of the ski resort, meaning most Snowmass properties are slope side or true ski-in-ski-out. Most accommodation in Snowmass is condo or apartment style with self-contained facilities and a little more space than a standard hotel room. For that reason Snowmass is great for families and groups of friends travelling together, it provides flexibility, giving you the choice to enjoy the village in the evenings or space to relax and rest your muscles.
The winding, purpose-built ski village offers everything you will need on your Aspen ski holiday. The convenience of skiing or snowboarding directly from your hotel, with easy access to restaurants, retail shopping, grocery and liquor stores for those nights spent relaxing in your condo.
Talk to our ski consultants today about the best options for your dream Aspen trip. No matter your choice, the signature Aspen hospitality is warm and delightful.
To book Aspen ski accommodation,
click here.
The Aspen Snowmass lift pass grants you access to all four mountains on the one pass and includes the free ski shuttle between them all. Each mountain has its own personality and attributes, so choose a different mountain each day depending on your ability, riding style, or mood, and then try and decide on your favourite!
Aspen Mountain
is the steepest terrain of the four, Aspen or Ajax as the locals call it, is best enjoyed steep and fast! The 675 acres of terrain here is best suited to intermediate, advanced and expert skiers and snowboarders.
Highlands
is a down to earth resort and secretly the local favourite. The 1,040 acres of terrain caters to intermediate riders and above. Highlands is paradise for the adventurous, once at the top take a 20-minute hike and you could be dropping into the Highland Bowl, some of the most intense in bounds skiing in Colorado.
Buttermilk
is a playful resort and great for absolute beginner skiers or first-time snowboarders. Buttermilk is also the best place if you are keen to hit the terrain parks. With 35% of the 470 acres of terrain classified for beginners, this is a great place for kids and big kids learning to make their turns. Buttermilk is also the home of the Winter X Games in Aspen each year in late January, where the best in the snowsports world compete for the coveted X Games bling!
Snowmass
is the largest of the four mountains covering 3,339 acres, Snowmass offers a wide variety of terrain for all abilities, from beginner through to expert shredders. The whole family can enjoy what Snowmass has to offer, including the world class ski school. The Treehouse Kids Adventure centre is a state licensed facility and takes infants from 8 weeks, toddlers and pre-schoolers. Families love this mountain; early booking is essential for childcare, especially over peak dates.
No matter which for these four mountains you ski, Aspen has plenty of awesome on mountain dining options. Some of our favourites include Sundeck restaurant at the top of the Silver Queen Gondola on Aspen Mountain. Sundeck has a spectacular view over to Highlands and the Highland Bowl. Fill your bowl with a made to order stir fry and enjoy the view! If you are skiing Highlands, don't miss Cloud 9's Swiss inspired menu of fondue and raclette. Is table dancing and champagne showers your style? Secure the 2pm lunch seating and settle in on the deck! If you are shredding Snowmass try Elk Camp which specialises in house made, local seasonal produce with a great deck for sunny bluebird days! Another Snowmass fave is Up 4 Pizza, apparently something special happens to the dough at over 11,000ft altitude, making these pizzas so delicious. Try for yourself then decide! Make sure you leave room for a cookie fresh from the wood fire pizza oven, best enjoyed fresh and hot! Finally, skiers and snowboarders exploring Buttermilk can soak in the view of Pyramid Peak at the Cliffhouse while the chefs sizzle up your lunch on the Mongolian Grill!
Aspen is an IKON pass resort, to book Aspen lift tickets,
click here.

Located at the base of Aspen Mountain, Aspen town is surprisingly flat ground, making it easy to get around on foot. This is our favourite way to get around and discover all that Aspen has to offer. Getting between the Four Mountains is easy, a free local bus operates the loop from Aspen, to Highlands, followed by Buttermilk then Snowmass.

Depending on where you are staying, your hotel may offer a free town car or shuttle to get around Aspen. There are of course taxi and ride share options too.

Fly into Aspen Airport, from the airport its only a few minutes to the mountains via shared and private shuttle services, or visitors can choose to hire a car and drive themselves.

There is so much to see and do in Aspen! Make sure you keep an eye open for celebrity sightings while you take in all that Aspen has to offer.

If you love to shop, Aspen is a dream destination. Start with Chanel and Prada and Louis Vuitton, and it doesn't stop there! Shop the big brands or the high street in Aspen, it's your choice! Specialist Winter fashion boutiques such as Gorsuch are not to be missed. The Aspen ski scene is on pointe, if you need (or want) new snow gear, you can buy the latest and greatest here. If you have a spare day off the slopes and $20 in your pocket, hit up the thrift shops and pop some tags on an awesome bargain! You can also buy an awesome cowboy hat at Kemo Sabe, the gift you didn't know you needed.

For those who seek Arts & Culture visit Wheeler Opera House, The Aspen Santa Fe Ballet Company or explore Aspen's many art galleries and museums. These are the tip of iceberg; Aspen's colourful history allows for an eclectic blend of cultural experiences to enjoy.
Wellness is taken seriously in Aspen, with no shortage of day spas, yoga studios and health treatments you can settle in and relax. Namaste.

In Aspen, you don't need to wait until the lifts stop turning to start your après efforts! Kick off mid-mountain at Cloud 9 if you're skiing Highlands or Bonnie's on Aspen Mountain, just make sure you can still ski or ride down to the base after that champagne!

Slide into Ajax Tavern at the base of Aspen mountain, and experience Aspen's Après atmosphere at its finest! The newly built W Aspen is home to the WET Deck. Enjoy your rooftop cocktails in the pool or hot tub, in a cabana or by the firepits, all with mountain views of course!

Enjoy a 'drink in the view' and local craft brews at Aspen Tap, home to Aspen Brewing Co's extensive range. The brewery also does takeaways, so you can kick on afterwards if you choose. An important part of Aspens history is the iconic J-Bar – sip on a famous Aspen Krud, just like they did during prohibition days. Night owls can check your parka and carve up the dance floor at Belly Up, they get huge acts at this small space and it makes for a super fun night.


Aspen is a haven for foodies, there is almost a never-ending selection of restaurants, bars and cafes to explore. Below are a few of our ski experts' recommendations on where to eat in Aspen.


In both Aspen and Snowmass, the Limelight Hotel offers wood fired pizzas and an easy-going atmosphere. For special occasions or for no reason at all, experience fine dining at one of our favourites; Element 47 at The Little Nell, the incredible menu and service is only surpassed by the team of sommeliers and their extensive cellar. Ask for a private wine tasting in the cellar, a uniquely Nell experience!

Carnivores will love the Monarch Steak House which offers a prime selection of steak, seafood and caviar. Pair with the house cocktail menu, or your grape of choice.

Experience Matsuhisa, let Chef Nobu's exquisite sushi and sashimi menu delight you. Hint – ask to be seated at the sushi bar and watch the masters at work while sipping a signature cocktail!

L'hoistaria Ristorante is the local's favourite for homemade pasta, and warm friendly service. The wine list predominantly showcases Italian wines.

Spice it up at the Viceroy Snowmass with a Latin American inspired menu at Toro Kitchen and Lounge. There are a great selection of tapa's or main meals available and happy hour lasts from 2pm to 7pm on weekdays!

Wherever you ride, Aspen has plenty of excellent on mountain dining options, including a fresh and unique menu at each of the four mountains. Sam's on Snowmass was new in 2019, this refined Italian mid mountain experience will delight the taste buds and the eyes with incredible views over the Snowmass. Elk Camp is Snowmass's original signature dining venue which is known for hearty grab & go options and a market-style lunch.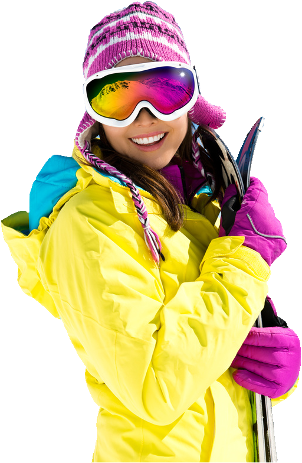 Our ski tips for
Aspen
---
Make sure you try our each of the four mountains, so you can decide which is your favourite, and tackle as much terrain as you can!