Hakuba is situated on Honshu, the main island of Japan, in the heart of Nagano Prefecture. Hakuba is easily accessible from Tokyo, coach or private transfers can take you from either of Tokyo's airports, Narita or Haneda, all the way to Hakuba in about 5 hours. If the bullet train is on your bucket list, this can easily be arranged. Japan's bullet trains reach speeds of up to 260km/h and trains operate between Tokyo and Nagano dozens of times a day.

When visiting Hakuba, you will most likely find yourself staying in the village of Happo, which was a traditional farming village before the ski resort existed, so it is filled with life and local culture, including shops, restaurants, bars or izakayas, shrines and onsens. Today, Hakuba thrives on winter tourism and boasts countless dining options. Wadano village is a forest area wrapping around Happo, and is dotted with hotels, chalets and houses nestled amongst the trees. Depending on which end of Wadano village you're in, it's about a 15-30 minute walk to Happo, or there is a local shuttle bus service. Hakuba proudly hosted numerous events during the 1998 Nagano Winter Olympics, and the Olympic rings and ski jumps still greet you on arrival. Happo was home to the downhill ski races and the ski jumping.

One of the famed attributes of Hakuba and the Nagano region, is its ample natural hot springs. The water rich in minerals from a natural hot spring are used to fill the communal baths called onsens. In Hakuba, this water is piped from the springs to the baths in the hotels and bath houses, and reheated. The mineral qualities in the water are great for relaxing, soothing sore muscles from skiing all day, and work wonders for your skin! To observe traditional onsen etiquette, onsens are gender segregated, and only entered fully nude after showering and washing off all suds and shampoo, don't worry, you'll be provided a small modesty towel. Tattoos are frowned upon, but may be allowed if covered up, just be sure to check before entry. Some public baths offer private onsens for an additional charge, so just ask if you would rather the privacy.
Most accommodation options in Hakuba are in Happo Village and Wadano Forest, which wrap around the base of the main ski area, Happo-One. There are ample choices of accommodation, with styles ranging from 5 star luxury hotels and private chalets to budget conscious lodging in for those who just need a warm dry place to sleep between powder turns and izakayas! Most accommodation in Hakuba is hotel or lodge style, with a growing inventory of self-contained lodging. Due to the high demand these apartments and chalets book out quickly, so get in early to avoid disappointment! Hotels in Japan also often offer the choice of Japanese or Western style rooms, while the traditional Japanese style this generally means you are sleeping on comfortable futons on the floor which can be a fun experience for a few nights.
Other places to stay include; Echoland a vibrant village area with plenty of restaurants and bars, only a short shuttle bus to the base of Happo-One. Goryu which is a small village at the base of Goryu ski resort, the village is quite small, but has a few accommodation options and restaurants. Great for those planning to ski Goryu most days, and looking for a quiet, authentic village. Cortina is home to the Hakuba Green Plaza Hotel, a true ski in ski out property at the base of Cortina, a popular resort on the Hakuba Valley lift pass. This property has over 250 rooms, restaurants on site and indoor and outdoor onsens with incredible mountain views.
To book Hakuba ski accommodation,
click here.
The Hakuba Valley consists of 10 ski resorts, all accessible on one lift pass. The Hakuba Valley Pass provides flexibility in mountains and does not have to be used on consecutive days, giving you time to rest your legs or take in the local sights. When staying in Happo, Happo-One ski resort is right on your doorstep. All these resorts can be accessed by the free ski resort shuttles which operate morning and afternoon. The next closest is Goryu Iimori, which is only 10 minutes down the road, and the furthest being Cortina, about 45 minutes away. The Hakuba Valley Pass also includes a free skier shuttle between the 10 ski resorts.
You will be spoilt with choice for terrain, depending on your preference for powder, trees, steeps, park, cruisers and groomers. Happo is steepest, 47 has a terrain park, Goryu has great tree skiing (that's between the trees for our beginners out there) and this is my top secret tip, Cortina typically cops the most powder snow in a big storm due to its north facing aspect. If you're just learning to slide (forwards or sideways, or both!) there are English speaking ski schools - just make sure we book that in advance as demand is high and they do sell out.
Annually Hakuba sees an average of 11m of snowfall, which is an incredible amount of dry snowfall for a relatively low altitude ski resort. As we know, weather often changes, so in an average week in Hakuba, you're likely to get 3-4 days of fresh snowfall and clouds, and the remainder of the week with blue skies and sunny days - Bring it on!
To book Hakuba lift passes,
click here.

Happo Village is fairly flat and quite dense, meaning you can easily walk around and experience all it has to offer. From Wadano, the walk into Happo is downhill, so you may choose to walk into Happo, and then take a shuttle back uphill after dinner and bar hopping.

Flights from Australia into Tokyo run frequently, from Sydney flight time is 9-10 hours depending on your Airline and from Brisbane direct it is closer to 12 hours. Qantas, Japan Airlines and Singapore Airlines are popular choices, as well as low cost carrier Jetstar. From Tokyo's airports, Narita and Haneda you can choose make the trip straight to Hakuba or depending on your arrival time, add a stopover first! Hakuba is accessible using train, coach or private transfers and takes aprroximately 5-6 hours depending on your preferred mode of transport.

Chat to our team of ski speacialists to decide which airline is best for your ski holiday.

A trip to Hakuba would not be complete without meeting the famous Snow Monkeys! These monkeys are the furthest north dwelling monkeys in the world, and as such adapted their behaviour and keep warm in the natural mineral hot springs. Monkeys can be seen throughout the local snow-covered forests in Nagano, but the best experience is to see the colony of over 150 monkeys soaking in the Jigokodani Onsen. The Snow Monkey tour is extremely popular, and most visitors will do this at some point during their Hakuba snow holiday. It is a full day experience, including a 30min walk through the forest to Jigokudani snow monkey park, a Japanese lunch at Masuichi Sake Brewery, and a visit Zenkoji Temple. This is a great all-round cultural experience and a must do while in Hakuba!

Bathe in your hotel's onsen or venture out to a public onsen in town. Bijin no yu is in central Happo, and has exclusive use of that specific spring, which has the highest alkaline water in the region, the name translates to beautiful person, meaning you will become more beautiful after bathing there! Disclaimer: We can't guarantee you will become more beautiful, that's entirely out of our jurisdiction.

Right in Happo Village is a Shinto shrine dedicated to rain for the autumn harvest called Hosono Suwa Shrine. Standing next to the shrine, is a tree over 1,000 years old, and is listed as a national treasure, which measures 40m tall and 10m diameter!

If you happen to be in Hakuba in the middle of January, the Nozawa Fire Festival is not to be missed! Although not exactly in Hakuba, it is a great add-on to your holiday. On the 15th January every year, locals engage in a fire setting battle, thought to bring a good harvest, health and fortune, and of course a good ski season!! A special coach service is put on so guests can get to/from Nozawa for the spectacular event. Note that the huge fire does get VERY hot, so don't be that tourist that stands too close and melts their ski jacket. Take note from the locals and stand a little further back.
There are tonnes of great bars in Hakuba, make it your mission to try them all, or tackle après the Japanese way, and head for a soak in the onsen!
The Pub
is a favourite, owned and operated by the Mominoki Hotel, it's great for après, dinner and well into the night. Hakuba Tap Room at the Panorama Hotel has the best selection of local craft beers, dedicate some time and sample them all!
Unjaune
is ideally located right opposite the base of the Adam Gondola at Happo-One and has beers and burgers that will satisfy after a huge day on the slopes! The location also offers a great view of the slopes, and a yard sale if you're lucky. Head back here late at night if you are continuing the party into the wee hours.
Refuel
offers happy hour from 4-6pm, and these guys serve food all night including a delicious spicy ramen. After a few shots of sake in Hakuba you might find a curious rabbit hole.. or specifically find yourself at The Rabbit Hole, another popular après spot in Hakuba that has a great selection of drinks, food and a relaxed downstairs area with pool tables.
In Japan, each region has specific food and produce that the area is it renowned for. In Nagano prefecture, local delicacies include apples, soba and wasabi! You'll find that apples feature in a lot of desserts, pastries and snacks in Nagano, while wasabi and soba are a strong feature on local menus.
For dinner, Haukba has some lovely fine dining options at the upmarket hotels like Mimi's at Phoenix, or Chamonix at the Tokyu. For more traditional dining, Happo Bijin is a Ramen bar is right outside the Happo onsen, and serves ramen cooked in mineral water! There are also plenty of izakaya's hidden throughout the village, which are like a Japanese style tapas bar, a great place to explore local cuisine and sample the local brews! Another option is heading to Echoland which has tonnes of restaurants and bars along the vibrant main street, definitely worth the short trip!
Rabbit Hole
is a restaurant and bar hidden in Wadano forest near the Sakka base, which serves up breakfast (and good coffee for those addicts among us), lunch and dinner, as well as being a popular après spot for skiers and snowboarders. Another special mention for coffee lovers is Rhythm Japan, this rental shop does excellent coffee and we highly recommend grabbing one when you hire your snow gear.
Hakuba also has a fun food truck scene, trucks set up in various locations offering a selection of different cuisines, try American burgers, crepes, Mexican or Indian food at a great price. If you are struggling to decide, our team recommend a crepe with cheese, pepperoni and jalapeno's for the perfect combo - just saying!
Our Top Hakuba Properties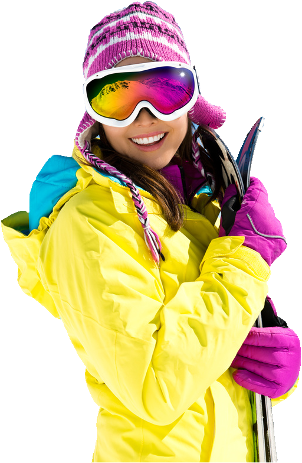 Our ski tips for
Hakuba
---
No Japanese ski holiday is complete without a visit to an Onsen or natural hot spring bath. Traditionally you bathe naked, men and women onsen separately and you must clean yourself thoroughly before and after entering the hot springs. Many hotels and resorts in Hakuba have their own Onsen but there are public ones as well, just make sure you check the rules for your onsen before you go! Some Onsen do not allow tattoos or require them to be covered before entering and you may offend locals if you do not follow their traditional rules.

Anyone visiting Hakuba should add a trip to the famous Jigokundai Snow Monkeys, to their ski holiday, the monkey's sit in natural hot springs and are a must-see for many visitors. Make sure to wear good shoes and warm clothes as you do walk to the hot springs through a beautiful alpine forest. A visit to the snow monkeys can be easily be added as a day trip from Hakuba or Shiga Kogen.

Cash is king, a lot of smaller shops, restaurants and bars in Hakuba prefer to use cash or in some cases only accept cash. We recommend grabbing some cash in Tokyo before heading to Hakuba, if you run out (or forget) the Post Office is a great place to top up your cash stash as they accept both Debit and Credit cards. Seven Bank ATM's are another option, just make sure you look for the 'International ATM Service' symbol.